Slapstick is a 'classic' form of physical comedy--perhaps the oldest form of humor. In the early days of cinema (1910's, 1920's) movies did not have sound, and so, naturally, the emphasis was on visual comedic effects ("sight gags"). The 'pratfall', slipping on a banana peel, getting splashed with water or paint, falling into the mud…these were all standard stunts and sight gags seen in early silent films.
The pioneering film comedian Ben Turpin is generally credited with taking the first cinematic pie-in-the-face (the 1909 film short 'Mr Flip') in a short 'pie fight sequence. However, it would not be until several years later that the gag would be given a fresh face, so to speak! Sometime around 1913, a young actress named Mabel Normand (soon to become American cinema's first 'queen of comedy'), working under contract to Mack Sennett (and soon to become his lover), became the recipient of a blueberry 'pie-in-the-face'. This sight gag occurs in two different Keystone shorts--'The Ragtime Band' and 'A Muddy Romance'-- both of which date to 1913-14. This simple gag--shockingly applied to the face of America's emerging comedic sweetheart (Mabel)--created a sensation throughout the relatively new, film-going public.
Sennett was quick to capitalize, making several more shorts with similar gags, and gave Mabel a free hand in directing and writing her own shorts (most of which have been lost). She quickly realized that a cream type pie worked best for film. So associated was Mabel with this gag that she was credited with having invented 'pie throwing'. Mabel also developed a bit of a reputation for her occasional sadistic prank and one particularly brutal actor audition (Mabel pelted him with pies and then kicked him into the mud face first). Still, she was largely responsible for the first film breaks by such greats as Buster Keaton, Charlie Chaplin, and Charlie Chase. She and Fatty Arbuckle (another silent great whose career ended in scandal) appeared in dozens of shorts together, and were the silent era's version of Lucy and Desi of later tv era fame. The rapidly growing popularity of this form of slapstick sparked much imitation, especially from Hal Roach studios. The sight gag--from a single pie hit to a complete "melee"--remained a common occurance in comic cinema…and continued to do so into the era of talking pictures and through the early 1930's, when this type of humor's popularity would begin to decline--though it would never disappear completely.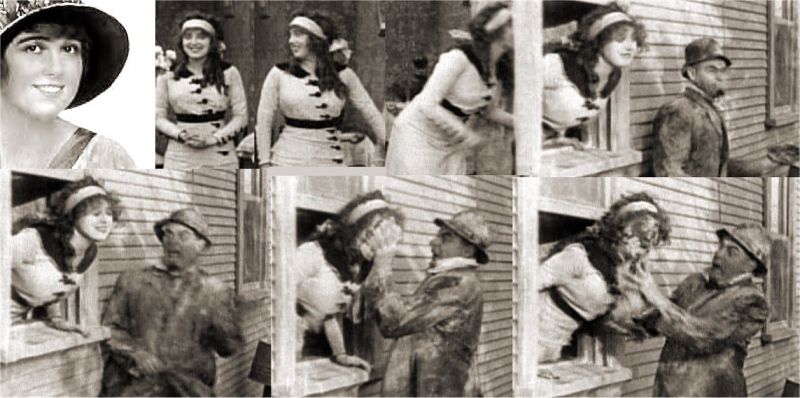 Today, though we see much less of this type of physical humor (considered to be "low brow" comedy and/or "kid's stuff"), 'slapstick'-- a name that comes from the exaggerated sound made by a 'tricked' hitting stick used in circus clown acts--remains the backbone of the comedic arts and a staple of modern comic theatre, television, and film.

See the 1913 film clip with Mabel!